Paul Parry: Freelance copy-editor, Olympic News Service sub-editor, copywriter, author, ghostwriter, blogger and WordPressario*.
*I make beautiful, functional, secure websites with WordPress
I also share tips and resources on internet marketing and content creation for parents, teenagers, schoolteachers & creative freelancers, including:
Copywriters | Musicians | Magicians | Movie reviewers | Artists | Designers | Journalists | Podcasters
I'm also campaigning to get Internet Studies taught in UK schools. Join me by entering your email address in the form below or you can read more about the campaign here.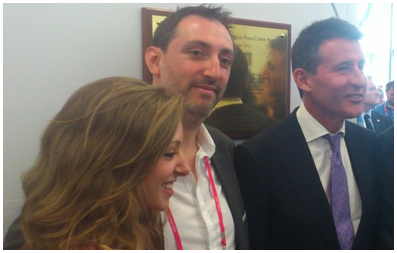 Above: Me alongside my sister and Lord Coe at the opening of
the Steve Parry Bar at the Main Press Centre (MPC) at London 2012.

Looking for a freelance copy-editor or writer who can deliver with minimum guidance and support?
What you'll get from me:
Exceptional writing skills
A strategic copy-editor/writer who sees 'the big picture'
Knowledge of SEO and the latest marketing trends and best practices
Intelligent copy – even if it's on topics I'm less familiar with
Key points highlighted to grab attention, spark interest and elicit action
Superior attention to detail and a positive, energetic attitude
Your deadlines met – every time
Dad jokes (quality may vary)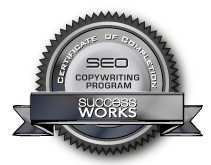 Books I've read – a selection of cracking reads:
The Long Tail | The Tipping Point | Outliers | Purple Cow | Hegarty on Creativity | Mindset | The Big Leap | Life's A Pitch | Permission Marketing | Book Yourself Solid | Stephen King On Writing | The Adweek Copywriting Handbook | Yes! 50 Secrets from the Science of Persuasion | Change Your Thinking Change Your Life | What Colour is Your Parachute? | How to Win Friends and Influence People | Tested Advertising Methods | Confessions of an Advertising Man | Twenty Ads That Shook the World | Words that Sell | The Corporate Blogging Book | The Little Book of Self-Editing for Writers | The Trick to Money is Having Some | Networking For Career Success | The Story Book – a writers' guide to story development, principles, problem resolution and marketing | How to Build a Blog | The Author's Guide to Publishing Success | ReWork: Change the Way You Work Forever | Choose Yourself! | The Well-Fed Writer | E-commerce Get It Right! | New Oxford Dictionary for Writers and Editors | How the World Sees You | Forget Strategy. Get Results | The English |The Alchemist | Crush It! | Blink | Key Person of Influence | Internet Prophets | What Would Google Do? | Fantastic Mr Fox | Who Moved My Cheese? | God is a DJ – but he only warms up for Sasha | The 4-Hour Work Week | 50 Success Classics | Kensuke's Kingdom | Faster than Lightning: My Autobiography (Usain Bolt) | The Rise of the Humans | We Are Our Brains | The Chimp Paradox | Tribes | All Marketers Are Liars | The Desire Code (as editor) | Living on the Volcano | Born to Lose: Memoirs of a Compulsive Gambler | The Little Book Of Confidence | The Race for the 2012 Olympics | The Go-Giver | Graham Taylor In His Own Words: The autobiography (as proofreader) | The Fortune Cookie Principle | The Inevitable: Understanding the 12 Technological Forces That Will Shape Our Future | The 100 Greatest Watford Wins | The Dip | Influence | The Icarus Deception: How High Will You Fly? | #AskGaryVee | Lean In |
Education
I achieved a BA in Media Studies at Leicester's De Montfort University (1990-1993) and three 'A' Levels, from Greenhill College in Harrow, north-west London:
English Language Studies ('A' grade)
Communication Studies
Geography
Since then, I've developed my knowledge of copywriting, internet marketing, business, psychology and design.
At Play
I have a passion for all kinds of pop, rock and dance music (I play the drums, but not as well as my elder daughter).
I love watching many sports, particularly football, and have been a Watford FC season ticket-holder for years. I'm also a keen runner and fulfilled a lifelong ambition when I completed the 2013 London Marathon (raising £3,280 for a leukemia charity).
Other interests include creative writing (I've written scripts and an 81,000-word novel – which I tweeted, line-by-line), travel, business, British social history, geography and psychology.