Job hunting – how to find great jobs at VC-backed start-ups
When it comes to job hunting, most people do the same things as everyone else…
…which don't help you stand out from the crowd or show potential bosses that you're positively different.
Because most people don't know how to make the most of the internet to help them find a great job, you can take advantage.
There's a new way to find opportunities that most (if not all) of your competitors will not use.

Searching for a job – not just
any
job but a great job, a satisfying, well-paid job – is hard work, because…
Most jobs are never advertised
Many companies use software to weed out poor or boring applications, which means that roughly half don't even get in front of someone's eyeballs
Interviews tend to last around 40 minutes, while it generally takes between 24 hours and two weeks for a potential employer to let you know their decision
Before making an offer, more than a third of employers look for multitasking skill, 31% look for initiative, 21% look for creative thinking and 12% look for 'something else' in candidates
(Source: Forbes)
The trouble is, when you've heard 'No' – or nothing at all – time and time again, it's difficult to do anything other than go through the motions or something which might work but is a struggle to do with conviction.
You end up going after jobs that you're overqualified for or have little real interest in (I know because I've been there).
So instead of doing what most people do, do something different.
Your solutions: use these job hunting tips…
Job Hunting Tip No. 1: use the internet to present yourself professionally (without relying on LinkedIn)
There's no point getting yourself in front of the ideal person only for them to discover that, really, you're no different from everyone else.
If your CV looks like everyone else's, and you use the same words to sell yourself that everyone else uses, you've wasted an opportunity.
According to Workfolio, who develop applications for professional visibility, 56 per cent of all hiring managers are more impressed by a candidate's personal website than any other personal branding tool, but only 7 per cent of job seekers actually have a personal site.
13 ways having a website can help you when you're looking for a job: 
Use it to show your personality far more graphically than a CV can (for example, you can use any colour under the sun, rather than just black and white)
You have much more space to present your personal story
Publish a great photo of yourself
It shows that you take your career seriously
Demonstrate use of the same language that your industry uses – rather than the same, boring, generic language that populates every standard CV
Easily provide opportunities for further reading by presenting links to your profiles on the social networks (such as an industry-specific Twitter page)
Showcase previous work or a portfolio
Transmit your professionalism and attention to detail by writing clearly, without typos or spelling mistakes – this alone shows a potential employer (always better than merely telling) that you're a finisher – ie, you get things done, not just started
Control what they see about you (ie, send them here, where you look more professional, rather than your Instagram profile)
Use a strong headline on the front page/home page that tells the reader quickly and clearly who you are, what you do and why you'll deliver the results they want. As with any other website, it should answer the 'What's in it for me?' question that your reader will have on their mind
Instead of idly sticking your CV on a page, you could make use of all the technology at your disposal and create a video CV in which you spend a few minutes talking about yourself and your work history in a more appealing, interesting way
You might want to publish a few posts on a blog to further demonstrate both your hunger and your knowledge
Finally, gather praise from bosses (present and former, if possible), colleagues, customers, clients and anyone else credible (such as a university professor who taught you) – as well as any recommendations you might have on LinkedIn – and present them on their own page with a link to it from the home page (and make it clear that it exists)
"What if you don't want the whole world to be able to see your website?"
No problem, just tick the box in your WordPress settings that tells Google and the other search engines not to include it in their listings, then only give the address of your site, the URL, to the people you want to show it to:
Or, you can set your site up with a password and control who gets that.
Job Hunting Tip No. 2: find companies in your industry that have money and are hiring NOW
This involves researching venture capital firms to see who and what they're backing – and what's trending in a particular industry.
VCs don't back donkeys, so this research reveals young companies which are growing and expected to do well.
When you click on the websites of the companies themselves (ie, those which are being backed), you'll see that they're often hiring.
What's more, these jobs may or not be advertised elsewhere – and that's where your opportunity lies.
So for this example, I'll show you how to research companies in the 'consumer/digital/internet' space that may be hiring.
Here's what to do:
1. If you're in the UK (this strategy will work anywhere) go to Google and search for venture capital firms UK, or something similar: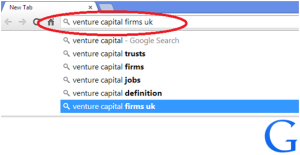 This Wikipedia page is a good place to start.

2. Right-click on the first VC in the list: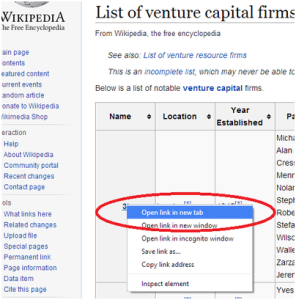 I often use the right-click ⇨ Open link in new tab option because it leaves your original, source page as a base (in another tab), so you always know where you are in the list.
3. Click on the External links button on the Wiki page…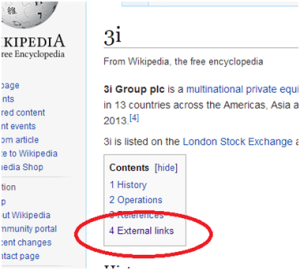 …which will take you a link to the VC company's website: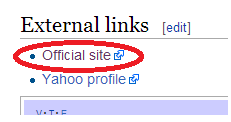 Click on that link.
4. When you get there, look for a link to their portfolio of investments/businesses.
You might have to do a bit of digging at this stage as clearly these companies' sites aren't all going to be the same and have an identical format and layout.
Here's what to look for in this example: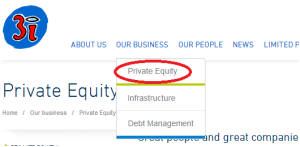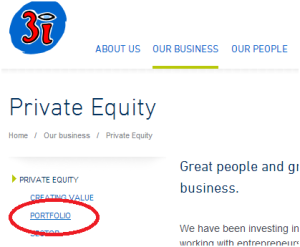 5. Search by Sector and Location (not all VCs will of course invest in businesses in your industry. Don't let that put you off. You're going beyond what most people do, remember).

This particular search has given us only four companies: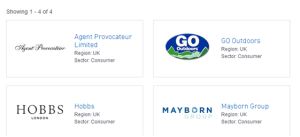 …but I've clicked on one, nevertheless (I've clicked on the first in the list, Agent Provocateur).
This is what I'm looking for: a link to 'visit the website'…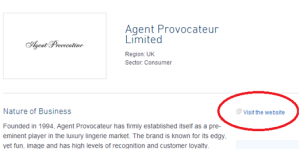 6. On the Agent Provocateur site, I'm looking for a link to careers, jobs or a 'We're hiring' button.
Again, not all sites are the same so be diligent and dogged in your search:

Bingo. This is the nugget we're after: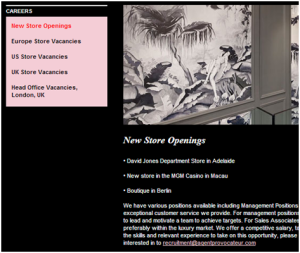 Of course, they might not be listing the ideal job for you, but you get the idea.
When you spend a couple of hours doing this and really go through every VC's site you can find that invests in your areas (in both a geographical and industry sense), you're bound to uncover at least one opening that interests you that you would not otherwise have found.
Good luck, share this post if you know people who'd like it and feel free to leave a comment.